LIVE PREVIEWBUY FOR $49Download Now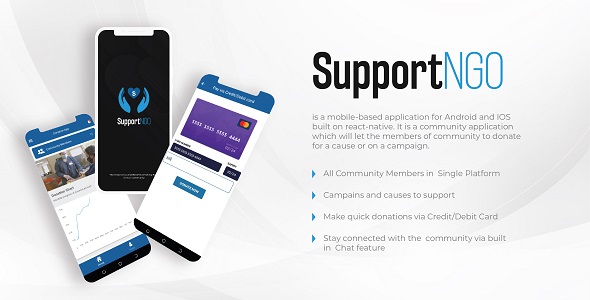 SupportNGo is a mobile-based application for Android and IOS built on react-native. It is a community application which will let the members of community to donate for a cause or on a campaign. 
Objectives:
Developing a platform for non-profit community. 
Make it convenient for community members to connect with other members, participate in campaigns, request for donations, etc. 
Admin/Head of community can manage the donations, members, and campaigns. 
This is a very cost-effective method because users/members will be free to communicate and donate without any physical presence. 
Admin/Head will be able to export (.csv) of donations, users data, and campaigns. 
App Features:
Member Module: 
The purpose of member app will be simply to connect with other community members if someone joins the community. It also includes features to request for donations, chat with members, donate via application.  
1) Sign up: In order to sign up the community member app, user will enter the username, email address, and password. An OTP will be sent to the user email address and then after verification – user can log in the application. 
2) Log in: Member can login the application with the verified credentials. In addition to this, if member wants to stay logged in to the current devices, member can tap the "Remember Device" button. 
            2.1) Forget your password: Member will be able to retrieve his password once…